10 Lines on Water Pollution: The World Health Organization (WHO) says that polluted water is water whose composition has been changed to the extent that it is unusable. In other words, it is toxic water that cannot be drunk or used for essential purposes.
The most common cause of poor quality water is human activity and its consequences. The Water Prevention and Control Act, 1974 was introduced to prevent and control water pollution.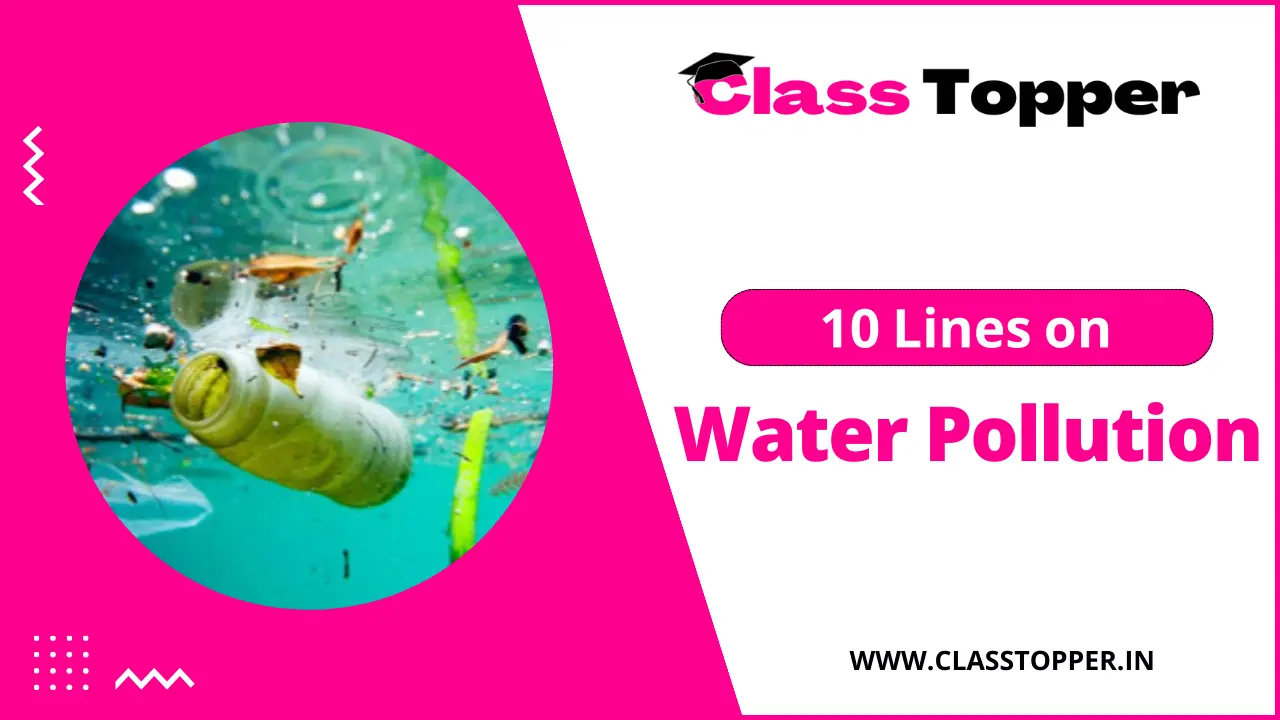 10 Lines on Water Pollution for Kids
Water Pollution refers to the contamination of water bodies and underground resources of water by any of the several human activities or natural causes.
It threatens the future of all the living species on the planet earth.
Water pollution has become a major environmental concern.
Pollutants of water consist of visible small and big pieces of garbage as well as invisible, harmful and toxic chemicals.
Polythene bags constitute a major threat to water resources.
Use of chemical pesticides and fertilizers pollute the groundwater resources.
Use of contaminated water causes several serious diseases in humans like – diarrhea, cholera, typhoid.
Water pollution must be prevented if we want the earth to be green, healthy and filled with life.
Water pollution could be prevented by making people aware of its causes and its effects on life .
It is the duty of all to take steps for keeping water pollution free .
10 Lines on Water Pollution for Students
Water pollution is the contamination of water sources by substances which make the water unusable.
Pollutants include chemicals, trash, bacteria, and parasites enter into the water bodies.
Land pollution can seep into an underground stream, then to a river, and finally to the ocean. Thus eventually pollute a water supply.
Water pollutants may cause disease or act as poisons.
Hazardous chemicals in water systems can also affect the animals and plants which live there.
Do not pour oil or other chemicals into the drainage system on the street.
Do not use pesticides on lawns, or use only organic ones. Use less fertilizer, also. All these can enter our water sources.
The UN says that more than 80% of the world's sewage finds its way into seas and rivers untreated.
Much of the plastic pollution in the ocean comes from fishing boats, tankers and cargo shipping.
Deteriorating water quality is damaging the environment, health conditions and the global economy.
Read other related post– Short Essay / 10 Lines.
Feel free to leave any related questions or suggestions in the comments section below. Your feedback is valuable to us! If you find this information interesting, don't hesitate to share it with your friends who might also enjoy reading it. Sharing is caring!
References Links: