10 Lines on Life: In the journey of life challenges and inevitable but they are also opportunities for growth and self-discovery.
It is a tapestry of relationship, accomplishment, and personal growth. Life is a beautiful journey filled with countless, experiences, emotions and opportunities.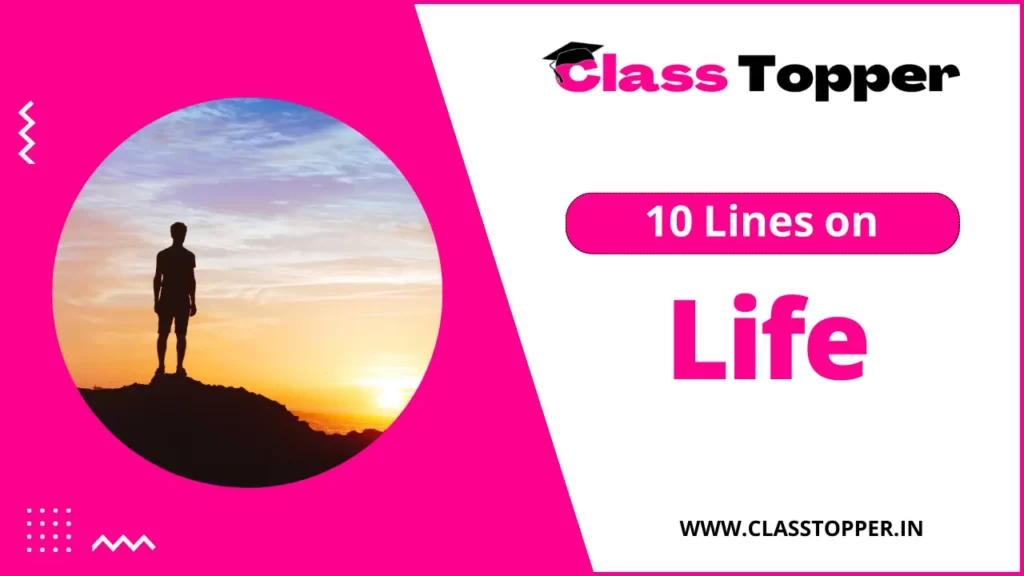 10 Lines on Life for Kids
Pattern 1 – This 10 Lines is very helpful for classes 1, 2, 3, 4, 5, 6, 7, 8, to College Students.
Life is a very beautiful and valuable gift.
It is given by a god to us and we must be thankful to him.
Life is a like a river that goes on flowing.
In life we get happiness and we also get sorrow.
We should always keep positive thinking in life.
Live is a associated with fillings, growth and evolution.
Every life form on the planet has a specific purpose.
In life, we come across many challenges.
Student life is very important in one's life.
Many people believe that the word pain is a synonym for life.
10 Lines on Life for Students
Pattern 2 – This 10 Lines is very helpful for classes 8, 9, 10, 11, 12th and Higher Class Students.
Life is one word that comes with multiple meanings and experience.
The uncertainly of death is what makes life so precious.
The meaning and purpose of someone's life is important.
Life is not the same for everyone.
It is a precious gift that should be cherished and celebrated.
Life is a Constant teacher importanting invaluable lessons along the way.
Life is a remarkable journey that should be embraced with open arms.
Life is fleeping and time is a finite resource.
Life is not merely a destination. it is a continuous journey that deserves to be savored.
It is crucial to paise for a moment and reflect on its true value.
Read other related post– Short Essay / 10 Lines.
Feel free to leave any related questions or suggestions in the comments section below. Your feedback is valuable to us! If you find this information interesting, don't hesitate to share it with your friends who might also enjoy reading it. Sharing is caring!
References Links: