10 Lines on G20 Summit: G20 or Group of 20 is an intergovernmental forum comprising 19 countries and the European Union (EU).
It works to address major issues related to the global economy, such as international financial stability, climate change mitigation and sustainable development.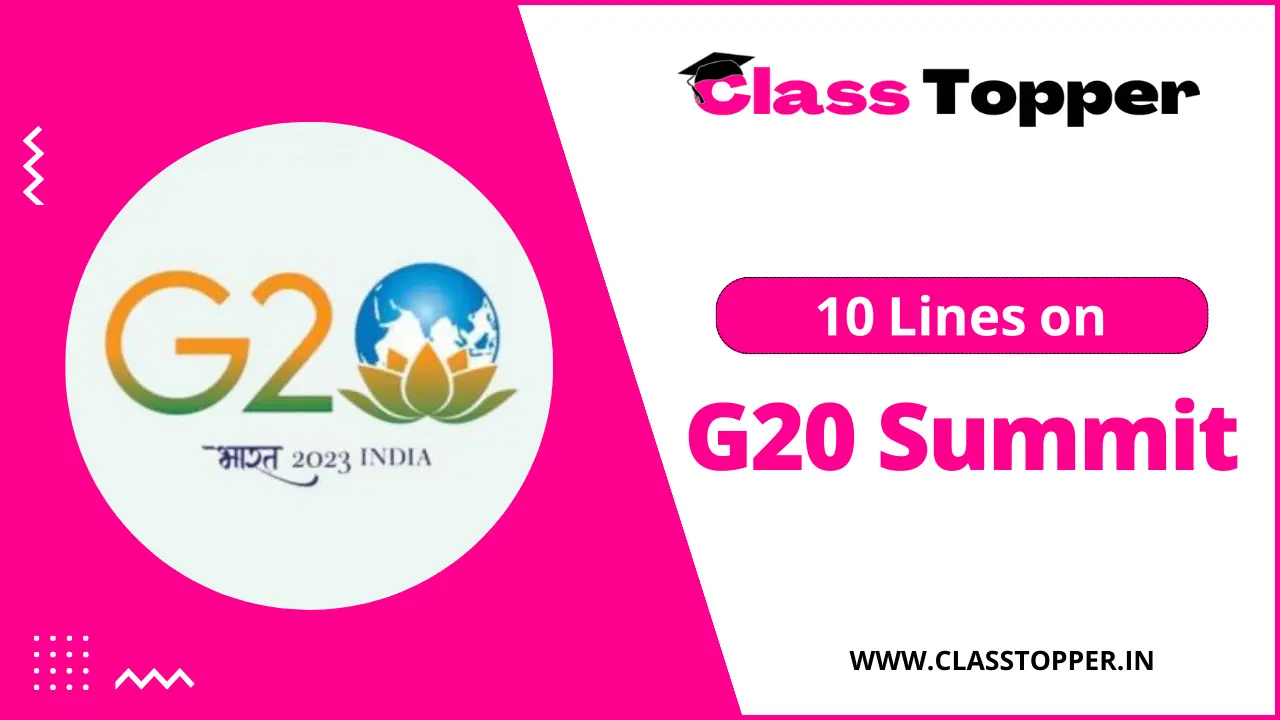 10 Lines on G20 Summit for Kids
The Group of Twenty (G20) is the premier forum for international economic cooperation.
It plays an important role in shaping and strengthening global architecture and governance on all major international economic issues.
The G20 was founded in 1999 after the Asian financial crisis as a forum for the Finance Ministers and Central Bank Governors.
The G20 does not have a permanent secretariat or Headquarters.
December 1st, 2022 is a momentous day as India assumed the presidency of the G20 forum, taking over from Indonesia.
The Group of Twenty (G20) comprises 19 countries (Argentina, Australia, Brazil, Canada, China, France, Germany, India, Indonesia, Italy, Japan, Republic of Korea, Mexico, Russia, Saudi Arabia, South Africa, Türkiye, United Kingdom and United States) and the European Union.
Main agenda of G20 is supporting cities as engines of economic growth, clean energy transition, and shaping a global health agenda.
The theme of India's G20 Presidency, which is "Vasudhaiva Kutumbakam" or "One Earth, One Family, One Future.
The 2023 G20 New Delhi summit is the upcoming eighteenth meeting of G20 a summit scheduled to take place in Bharat Mandapam , Pragati Maidan, New Delhi in 2023.
New Delhi hosted G20 2023
10 Lines on G20 Summit for Students
UK is largest G20 investor in India.
G20 (Group of Twenty) is an international forum consisting of 20 countries and the European Union.
India is assuming the Presidency of the G20 for one year. India, as G20 Presidency, will be inviting Bangladesh, Egypt, Mauritius, Netherlands, Nigeria, Oman, Singapore, Spain, and UAE as Guest countries.
The G20 Presidency steers the G20 agenda for one year and hosts the Summit.
The G20 process from the Sherpa side is coordinated by the Sherpas of member countries, who are personal emissaries of the Leaders.
He Group does not have a permanent secretariat. The Presidency is supported by the Troika – previous, current and incoming Presidency.
The G20 is composed of most of the world's largest economies' finance ministries, including both industrialised and developing nations
The G20 was founded in 1999 in response to several world economic crises
In its 2009 summit, the G20 declared itself the primary venue for international economic and financial cooperation.
The G20 is the latest in a series of post–World War II initiatives aimed at international coordination of economic policy.
Read other related post– Short Essay / 10 Lines.
Feel free to leave any related questions or suggestions in the comments section below. Your feedback is valuable to us! If you find this information interesting, don't hesitate to share it with your friends who might also enjoy reading it. Sharing is caring!
References Links: