10 Lines on Burj Khalifa: The Burj Khalifa is a superstructure building located in Dubai United Arab Emirates. This is the world tallest building. The height of this building is 830 m to tip.
Today, the most technologically-advanced skyscraper is the famous Burj Khalifa in Dubai. It's Actually a multi is building that has restaurants a hotel residential apartments office space and is a tourist attraction with its observation decks.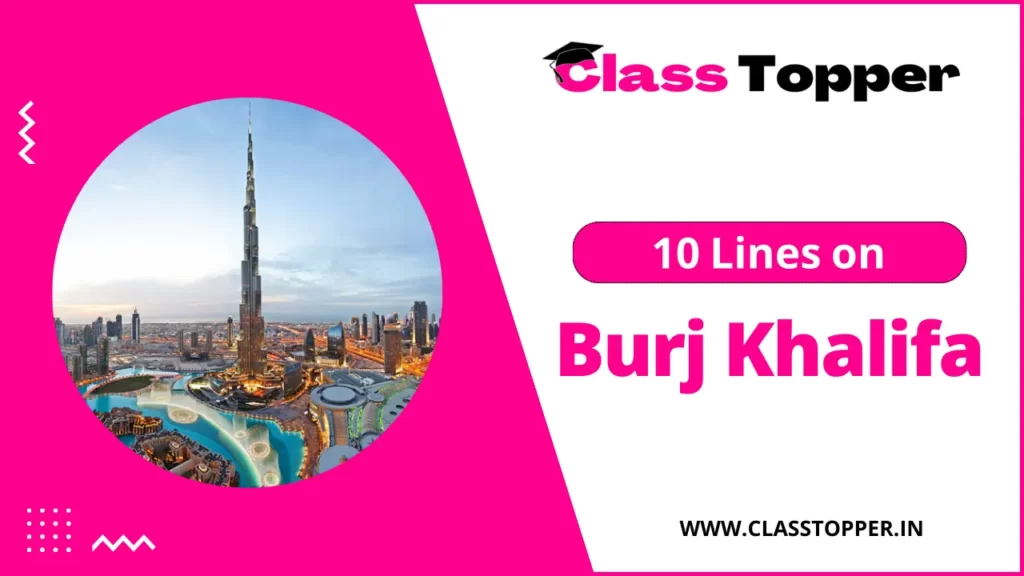 10 Lines on Burj Khalifa for Kids
Pattern 1 – This 10 Lines is very helpful for classes 1, 2, 3, 4, 5, 6, 7, 8, to College Students.
The Burj Khalifa is the tallest building in the world and a global icon
Truly a feat of engineering, the building represents the conceptual heart and soul of the city of Dubai
Highest occupied floor in the world.
Highest outdoor observation deck in the world.
The height measured from its tip is 829.8 meters.
There are total 164 floors in the building and this figure includes one floor under the ground.
This building has residences, offices, shopping malls, industrial spaces and community venues.
The Burj Khalifa is one of the top things to see in Dubai.
It is so impressive that you can even see it from the plane.
It was named after a former president of UAE
10 Lines on Burj Khalifa for Students
Pattern 2 – This 10 Lines is very helpful for classes 8, 9, 10, 11, 12th and Higher Class Students.
Burj Khalifa is the tallest tower in the world.
It's one of the top attraction to visit in Dubai.
Burj Khalifa comprises 1.85 million square feet of residential space.
The sculpture gifting ovals is made using a highly reflective organic coating.
More than 12000 worker worked onsite at that time during the building of Burj Khalifa.
Burj Khalifa stairwell total of 2909 steps leading up to the 160th floor.
Burj Khalifa is the world first Armani hotel.
It took 22 million man hours to build the tower.
This is considered as world record for vertical concrete pumping.
Burj Khalifa water system supplies an average of 946,000 liters of water a day.
Read other related post– Short Essay / 10 Lines.
Feel free to leave any related questions or suggestions in the comments section below. Your feedback is valuable to us! If you find this information interesting, don't hesitate to share it with your friends who might also enjoy reading it. Sharing is caring!
References Links: