10 Lines on Rainy Season: Rainy season is the most amazing season of the year. Animal are also active during the rainy season. We get drinking water from rains.
This season is very important season for farmers. Rainy season comes in the month of July it continuous till September.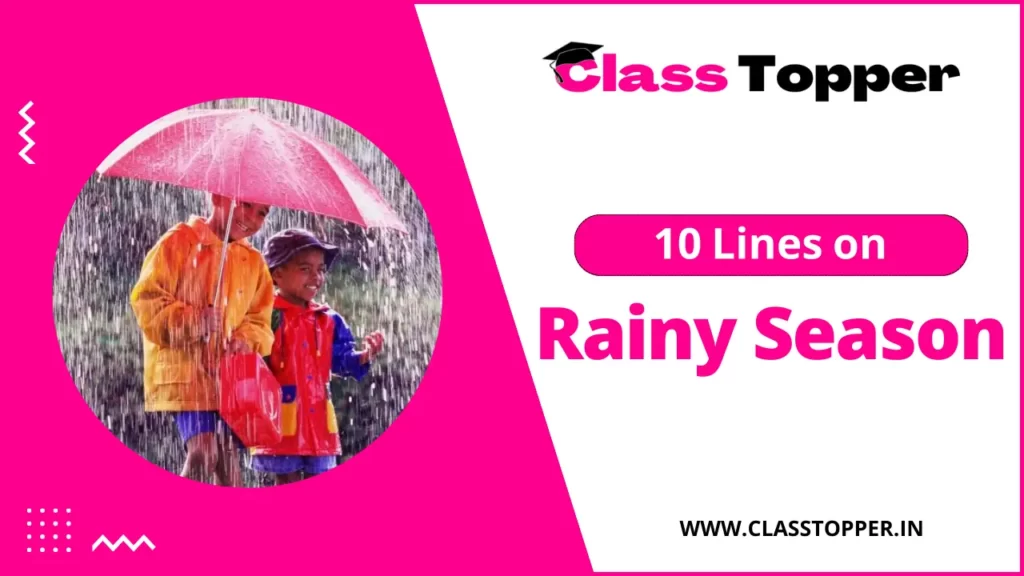 10 Lines on Rainy Season for Kids
Pattern 1 – This 10 Lines is very helpful for classes 1, 2, 3, 4, 5, 6, 7, 8, to College Students.
The rainy season comes after summer.
Dark clouds sail in the sky.
Trees and plants bear green leaves.
Grass grows in the fields.
The wells, ponds and rivers are filled with water.
Village street and lanes become Muddy.
Sometimes we see rainbow in the sky.
Sometimes it rains, for days together.
Some children's flots paper boats in the flowing rain water.
Farmers remain busy to grow crop.
10 Lines on Rainy Season for Students
Pattern 2 – This 10 Lines is very helpful for classes 8, 9, 10, 11, 12th and Higher Class Students.
There are many season on earth like summer, winter and rainy season.
Rainy season is my favourite season. rainy season start in the first week of July.
Rivers, dams and lakes get filled with water in this season.
Animals and plants also depend on rains for water.
Small children love to play in the water. this season is very important for farmers.
We get to see colourful rainbow during rainy season.
Trees become greener during this season and the whole land becomes green and beautiful.
Small children are drop paper boats in the rain water.
The crops of this season depend on rainwater and we enjoy the rains.
The whole environment becomes cool and beautifu. so, l like rainy season.
Read other related post– Short Essay / 10 Lines.
Feel free to leave any related questions or suggestions in the comments section below. Your feedback is valuable to us! If you find this information interesting, don't hesitate to share it with your friends who might also enjoy reading it. Sharing is caring!
References Links: