10 Lines on Punjabi Culture: The culture of Punjab is the richest culture in the world. Punjabi songs are full of melody and energy. The dance styles of Punjab has more flavor.
Folk music is the soul of Punjabi culture. The traditional dress of people is Kurta-Pyjama with turban for men. Women prefer Patiala suits as part of their traditional attire. Turban styles can be explored and is compulsory for all Sikhs.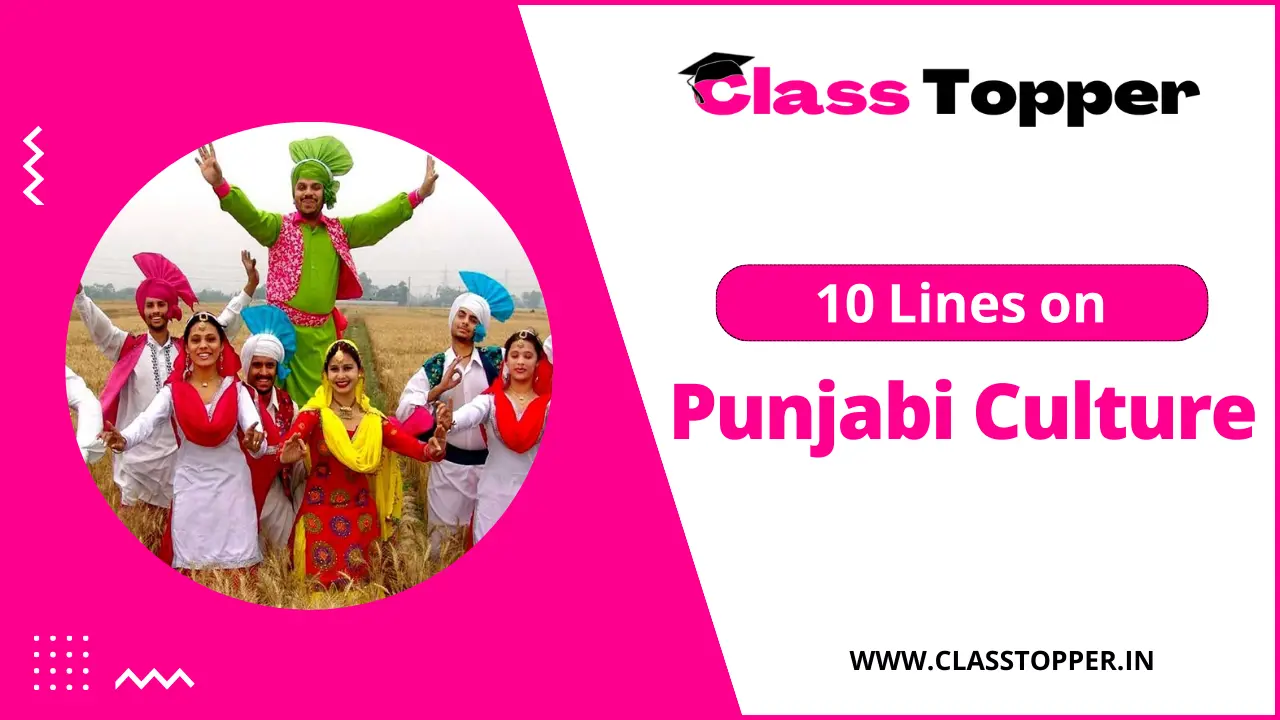 10 Lines on Punjabi Culture for Kids
Punjab is the heartland of India .
The delicious Punjabi food appeases your taste buds like never before.
Colorful fancy clothes and Bhangra attract you like nothing else.
Punjabis are known to be very helpful, welcoming and proud people.
They welcome everyone with open hearts and of course a glass of Lassi and typical Punjabi food.
They celebrate their festivals with great zeal and zest, with great food, music, dances and revelry.
The beauty of Punjab is as magical as it becomes.
Punjabis are mainly divided into two communities like Khatris and Jats.
Punjabis are very particular about their traditions and relations.
Punjabi food is rich in flavors and spices.
10 Lines on Punjabi Culture for Students
Punjabi are make food With overflowing ghee on the chapattis
Lassi is the refreshing drink in Punjab and is also known as the welcome drink.
The traditional dresses of Punjab are very colorful, unique and vibrant.
Women wear Salwar kameez .
Men wear a Turban with great pride.
Footwear preferred is Jooti which has been the traditional footwear worn by men and women for many years.
There are many folk music and dances which are hugely popular in Punjab.
Giddha and Sammi, Luddhi and Dhamal are some other popular dances in the region.
Punjabi music has become popular in Bollywood too.
Punjabis are known for their revelry and music forms an essential part of it.
Read other related post– Short Essay / 10 Lines.
Feel free to leave any related questions or suggestions in the comments section below. Your feedback is valuable to us! If you find this information interesting, don't hesitate to share it with your friends who might also enjoy reading it. Sharing is caring!
References Links: