10 Lines on My Hobby Painting: Painting is one of those hobbies that gives you an opportunity to relax, enjoy and learn at the same time. We cannot imagine our life without colors and the essence of a painting lies in its color schema itself.
Painting is one of those hobbies that gives you an opportunity to relax, enjoy and learn at the same time. It is a creative outlet that not only allows me to express my emotions and thoughts but also fosters my cognitive development and enhances my observational skills.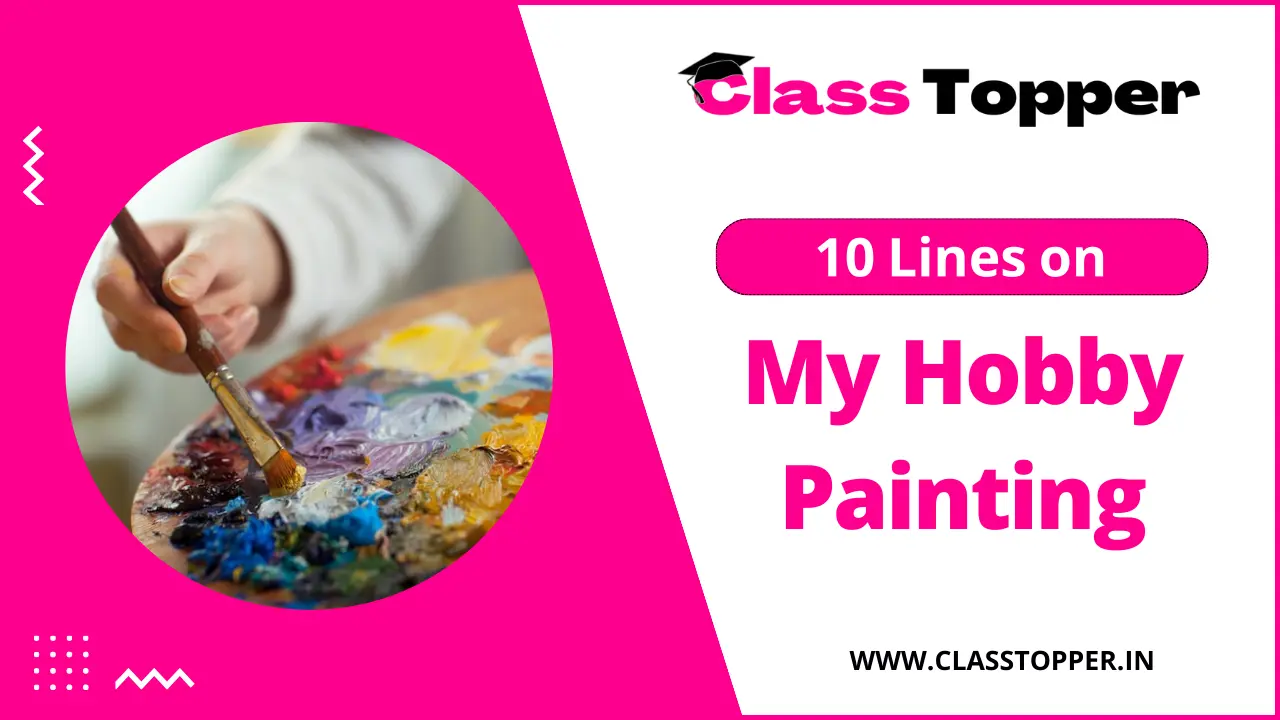 10 Lines on My Hobby Painting for Kids
Paintings are a form of visual art that captures the expression of ideas and emotions on a two-dimensional surface.
Artists use the elements of shape, colors, line, tones, and textures in unique ways to produce paintings that convey sensations of movement, volume, space, and light – traditionally on a flat surface.
Painting Promotes Creative Growth.
Painting Enhances Problem-Solving Skills.
Painting Improves Fine Motor Skills.
Painting Encourages Positivity and Offers Stress Relief Everyday life leads to quite a bit of mental strain and can generate negative emotions.
Painting Bolsters Memory, Concentration, and Spatial Awareness.
Painting Fosters Emotional Awareness and Growth.
Painting Offers a Healthy Challenge.
As you gain new levels of skill with the paintbrush, you'll find your confidence growing.
10 Lines on My Hobby Painting for Students
Painting is the practice of applying paint, pigment, color or other medium to a solid surface.
The medium is commonly applied to the base with a brush, but other implements, such as knives, sponges, and airbrushes, can be used.
In art, the term "painting" describes both the act and the result of the action.
The support for paintings includes such surfaces as walls, paper, canvas, wood, glass, lacquer, pottery, leaf, copper and concrete, and the painting may incorporate multiple other materials, including sand, clay, paper, plaster, gold leaf, and even whole objects.
Painting is an important form of visual art, bringing in elements such as drawing, composition, gesture, narration, and abstraction.
Paintings can be naturalistic and representational.
A portion of the history of painting in both Eastern and Western art is dominated by religious art.
Painting, the expression of ideas and emotions, in a two-dimensional visual language.
The elements of this language – its shapes, lines, colors, tones, and textures.
 An artist's decision to use a particular medium, such as tempera, fresco, oil, acrylic, watercolor or other.
Read other related post– Short Essay / 10 Lines.
Feel free to leave any related questions or suggestions in the comments section below. Your feedback is valuable to us! If you find this information interesting, don't hesitate to share it with your friends who might also enjoy reading it. Sharing is caring!
References Links: