10 Lines on Diwali festival: Diwali it is one of the biggest festival celebrated mainly in India. Kali puja and Diwali are two festival which are celebrated on 2 days and sometimes on the same day.
In India it is a festival of fun and happiness. In Hindu's religious rituals are performed on this occasion. I love Many festivals but my favorite festival is Diwali festival.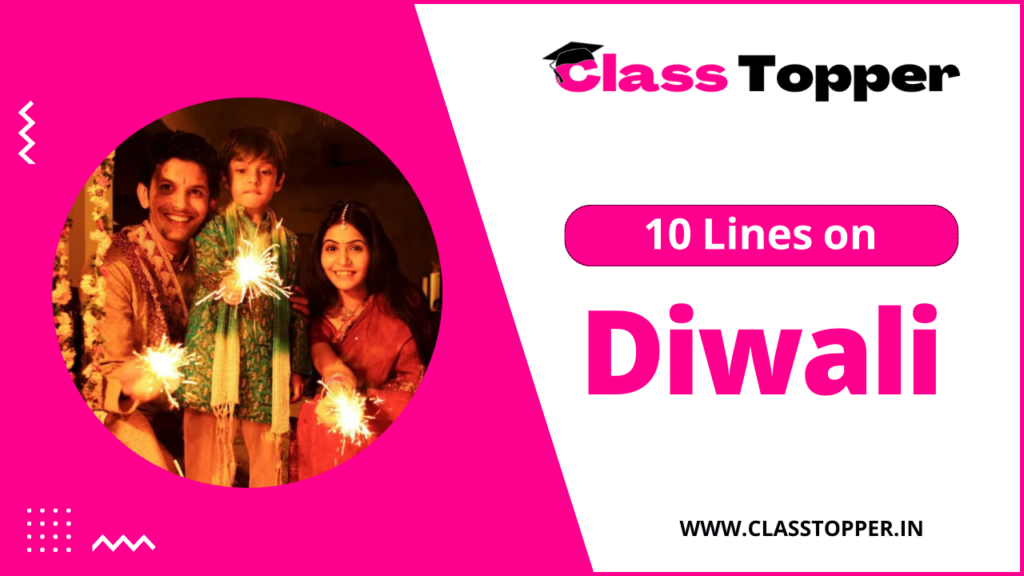 10 Lines on Diwali festival for Kids
Pattern 1 – This 10 Lines is very helpful for classes 1, 2, 3, 4, 5, 6, 7, 8, to College Students.
Diwali is a Hindu festival.
It is celebrated mostly in North India.
Diwali is also known as Deepawali.
On this day people wear new clothes.
People play with fireworks and crackers.
Diwali festival is a festival enjoyed by everyone.
It is celebrated in October or November each other.
Diwali Marks the victory of light over darkness.
Diwali is a five days long festivals.
Diwali teaches us great lessons of unity and peace.
10 Lines on Diwali festival for Students
Pattern 2 – This 10 Lines is very helpful for classes 8, 9, 10, 11, 12th and Higher Class Students.
Diwali festival is a famous festival of India.
Diwali is celebrated as lord Ram return to Ayodhya after 14 years of exite.
Diwali festival is a 5 days long festival.
It begins with the first day known as Dhanteras.
The third day of Diwali is known as Lakshmi puja and it is the main Diwali festival.
People worship goddess Laxmi and lord Ganesh on this day.
The last day of Diwali festival is called Bhai duj.
On this festival people prepare sweet dishes and distribute them to relatives.
Diwali is the festival of lights.
On Diwali, people buy new things and wear new clothes.
Read other related post– Short Essay / 10 Lines.
Feel free to leave any related questions or suggestions in the comments section below. Your feedback is valuable to us! If you find this information interesting, don't hesitate to share it with your friends who might also enjoy reading it. Sharing is caring!
References Links: