10 Lines on Best Friend: It is important to have a best friend in our life. they are well wishes and caretakes to whom we can share our thought a best friend always boost war confidence.
I have learned a lot of good qualities from my best friend. She is punctual in Her work. She respects all the people very much.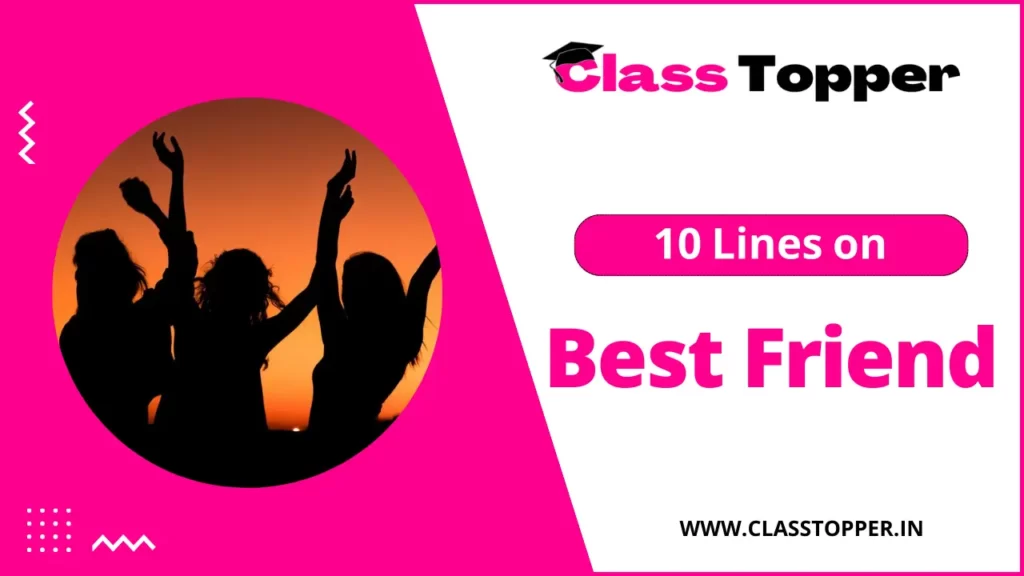 10 Lines on Best Friend for Kids
Pattern 1 – This 10 Lines is very helpful for classes 1, 2, 3, 4, 5, 6, 7, 8, to College Students.
My best friend name is Suneli.
She is very intelligent and helps me in studies.
She is belongs to a noble and gentle family.
We are in same school and some class.
He wears need clothes and has no bad habits.
He is good in mathematics and science.
His father is a teacher at a Government High school.
His mother is an ideal lady.
I often go to his house and we study together.
I am proud of my best friend Suneli.
10 Lines on Best Friend for Students
Pattern 2 – This 10 Lines is very helpful for classes 8, 9, 10, 11, 12th and Higher Class Students.
I have a lots of friends but Suneli is my best friend.
She is my class fellow and we both sit together in the class.
She knows all my secrets and weakness but never reveals them to anyone.
She is very kind hearted for birds and animals.
Our family also known each other, her mother treats me like her own daughter.
She is very hard worker and sincere and always keen to learn new things.
She supports me and I can trust wholeheartedly on her.
We are best buddies and time files when we are together.
She respects teachers and elders and obey them.
I like his company very much and feel blessed to have him in my life.
Read other related post– Short Essay / 10 Lines.
Feel free to leave any related questions or suggestions in the comments section below. Your feedback is valuable to us! If you find this information interesting, don't hesitate to share it with your friends who might also enjoy reading it. Sharing is caring!
References Links: