10 Lines on Air Pollution: Air pollution is caused by solid and liquid particles and certain gases that are suspended in the air. These particles and gases can come from car and truck exhaust, factories, dust, pollen, mold spores, volcanoes and wildfires.
An air pollutant is any gas or particulate that, at high enough concentration, may be harmful to life and the environment. The solid and liquid particles suspended in our air are called aerosols.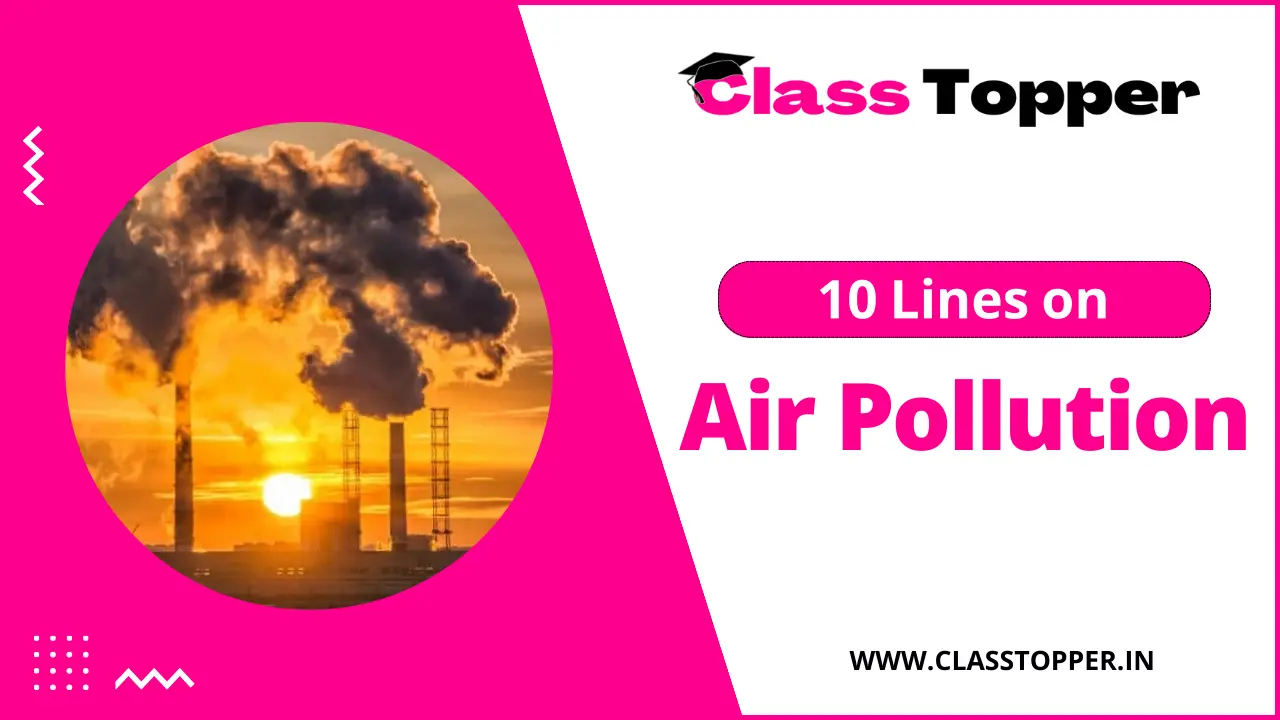 10 Lines on Air Pollution for Kids
Air pollution occurs when dangerous particles, gases, and chemicals are released into the air.
The pollutants of air can be found in vehicles, factories, power plants, and construction sites.
Air pollution also causes smog, making it difficult to breathe .
Humans suffer from various respiratory and cardiac conditions due to air pollution.
Air pollution also causes various diseases, including cancer, affecting other organs of the body.
The greenhouse effect is also the cause of air pollution.
We have to adopt the usage of Eco-friendly fuels such as LPG.
There are two basic types of pollutants in the air. They are known as primary pollutants and secondary pollutants.
Primary pollutants enter the air directly.
WHO estimates that around 7 million people die every year from exposure to fine particles in polluted air.
10 Lines on Air Pollution for Students
Air pollution is contamination of the indoor or outdoor environment by any chemical, physical or biological agent that modifies the natural characteristics of the atmosphere.
Household combustion devices, motor vehicles, industrial facilities and forest fires are common sources of air pollution.
Vehicle emissions, fuel oils and natural gas to heat homes, by-products of manufacturing and power generation, particularly coal-fueled power plants, and fumes from chemical production are the primary sources of human-made air pollution.
Mixing contaminated substances with air leads to air pollution.
Air pollution causes many harmful diseases.
Air pollution reduces the life span of living beings.
Cutting down trees and forests is causing an increase in air pollution.
It creates major diseases like asthma, chronic bronchitis, heart attack, and cancer.
At least 2400 years ago air pollution start.
While the effects of air pollution on materials, vegetation, and animals can be measured, health effects on humans can only be estimated from epidemiological evidence.
Read other related post– Short Essay / 10 Lines.
Feel free to leave any related questions or suggestions in the comments section below. Your feedback is valuable to us! If you find this information interesting, don't hesitate to share it with your friends who might also enjoy reading it. Sharing is caring!
References Links: