Hello, Friends hope you all are doing fine. So I would share with you Essay on Kolkata so that it would be really helpful for your Studies & Exams. Students who want to know details knowledge about Kolkata, then here we posted a detailed view of 5, 10, 15 lines essays & some Long Essay Chennai in English.
Kolkata is a city of colonial architecture, museums, art galleries, traditional cuisine, temples, music, and theater. A combination of the traditional and the modern. He is known for his theater and movies. This is the land of Rabindranath Tagore and the sounds of Rabindra Sangeet can be heard from every home.
5 Lines on Kolkata in English
1. Kolkata is the second biggest city in India.
2. It is known as the capital of West Bengal.
3. Kolkata is also Nicknamed the city of joy.
4. It is located on the bank of the Hugli river.
5. In Kolkata, commonly Bengali language is used.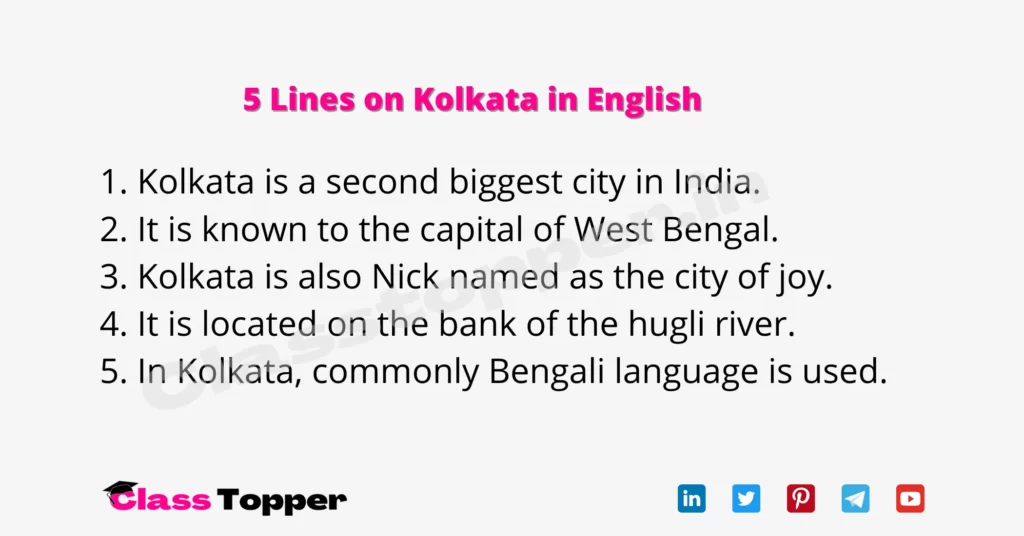 10 Lines on Kolkata in English
1. Kolkata city is located on the bank of river Hugli.
2. The city is a mixture of both modern and traditional cultures.
3. It is known to be the capital of West Bengal.
4. Their favorite foods are rice and fish.
5. The climate of Kolkata is neither very hot nor very cold.
6. Kolkata is famous for its beautiful monuments, textile, chemicals,s, etc.
7. Kolkata is a tourist spot for people located in various parts of the world.
8. In Kolkata, commonly Bengali language is used.
9. Kolkata is among the top metro cities in India.
10. All important state government city offices are also located in Kolkata.
15 Lines on Kolkata in English
1. Kolkata is famous for having the world's largest banyan tree.
2. It is located on the bank of the Hugli river.
3. Kolkata is known for its largest book market across India, i.e."boi para".
4. In Kolkata commonly Bengali language is used.
5. This is a mixture of both modern and traditional cultures.
6. Based on the census, Kolkata has a  literacy rate of87.54%.
7. Kolkata is a most famous popular library known as the national library.
8. It is known to be the capital of West Bengal.
9. Kolkata is a tourist spot for people located in various parts of the world.
10. It is among one of the four metropolitan cities of India.
11. Kolkata state of famous places like Victoria Memorial, Howrah bridge, botanical garden, etc.
12. In Kolkata city of the famous festival is Durga puja.
13. All important state government offices are also located in Kolkata.
14. Kolkata is famous for its sweets Roshogolla, laddu, and Chom Chom are some of the famous sweets of Kolkata.
15. Kolkata state is very clean and beautiful so, I like it.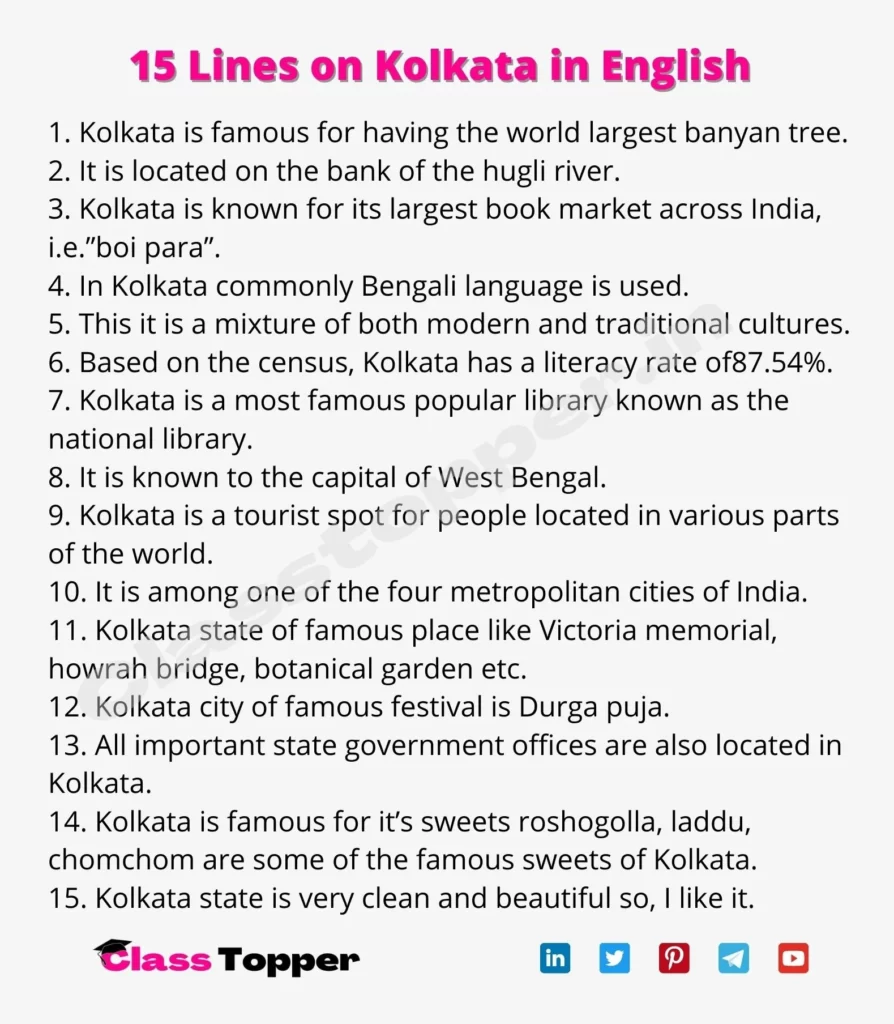 Essay on Kolkata | 100 Words Essay on Kolkata
Kolkata is home to many religions and races. There are museums, planetariums, libraries, cricket pitches, football stadiums, and many places of religious importance. There are theme parks, nightclubs, and other entertainment options for all ages.
The former name of the city, Kolkata, is an anglicized version of the Bengali name Kalika. According to some sources, Kalikata is derived from the Bengali word Kalikshetra, which means "Land of Kali (Goddess)". According to some, the city's name comes from the location of the original settlement on the (fish) bank of the canal.
The city is nicknamed the "City of Joy" for its enthusiastic expression of culture, love, mystery, respect, enthusiasm, and, of course, wonderful sweets.
Essay on Kolkata | 200 Words Essay on Kolkata
Introduction
Kolkata Treasury of India. It is also known as the city of joy. Kolkata is one of the most important cities in the country. It ranks first in the entire country in terms of safety and education. Calcutta is known all over the world.
Why Kolkata is beautiful?
Kolkata has a rich culinary tradition that every food lover must experience at some point. Home to delicious street food, delicious Bengali sweets and desserts, historic Indochinese restaurants, and legendary restaurants, Kolkata is one of the best cities in India for fine dining.
The city of Kolkata, home to the oldest institutions in India, is ranked 41st among 1000 most trusted in India, making it the fifth best educational center in India. Being a hub of universities and colleges, Kolkata has really good and affordable facilities available for students.
Conclusion
The city is famous for its desserts and sweets including Mishti Doi, Sandesh, Roshogolla, Laddu, Pantua, Pita, etc. Street food in Kolkata is very cheap. Kolkata is a city for everyone, rich and poor alike can enjoy it. Kolkata is the best city to visit.
Essay on Kolkata | 300 Words Essay on Kolkata
Introduction
Kolkata, Bengali Kalikata, formerly Calcutta, city, capital of the state of West Bengal and former capital of British India (1772-1911). It is one of the largest cities and a major port in India.
The city is located on the east bank of the Hooghly (Hooghly), once the main channel of the Ganges (Ganga), about 96 miles (154 km) upstream from its source in the Bay of Bengal; here the port city developed as a transfer point from the water to the land and from the river to the sea.
The character of the city
Modeled after the great European capital of the British colony, but now located in one of the poorest and most overcrowded regions of India, Kolkata has become a city of stark contrasts and contradictions.
This large and bustling Indian city thrives amid seemingly insurmountable economic, social and political challenges. Its inhabitants demonstrate a great zest for life, manifested in a passion for art and culture, as well as a high level of intellectual vitality and political awareness.
People
About three-quarters of the population are Hindus. Muslims are the largest minority group and there are Christians, Sikhs, Jains, and Buddhists. The dominant language is Bengali, but Urdu, Odia, Tamil, Punjabi, and other languages ​​are also spoken.
Population density is extremely high and overcrowding has reached almost unbearable levels in many parts of the city.
Cultural life
Kolkata is perhaps the most important cultural center in India. The city is the birthplace of modern Indian literary and artistic thought as well as Indian nationalism, and the people have made great efforts to preserve Indian culture and civilization.
Food
West Bengal is famous for many things and one of them is food. The delicious Rosogulla, Chomchom and Rasamalai, the savory Sorshe Ilish, and the Chingri Macher Malai Curry are just some of the delicious and tempting dishes of the richly illustrated and exquisite Bengali cuisine.
Conclusion
Kolkata is one of the safest cities in India. Women can spend quality time here without any hassle or risk. There are many places in Kolkata that every traveler should visit.
Essay on Kolkata | 500 Words Essay on Kolkata
Introduction
Kolkata, the bustling capital of the Indian state of West Bengal, is a vibrant metropolis boasting a culturally rich ethnicity and exemplary leaders and laureates. It was a boiling point for various historical movements and literary revivals.
Jawaharlal Nehru once said, "Kolkata is the city of processions, of political manifestations".
It is home to many great artists and revolutionaries such as Ramakrishna Paramahamsa, Swami Vivekananda, Rabindranath Tagore, Subhash Chandra Bose, and Maulana Abul Kalam Azad, Mother Teresa, and Satyajit Ray. This third most fertile and populous metropolitan city in India has different faces.
History of Kolkata
The East India Company took over the trade and gave Calcutta its name in the 17th century. It was a large colonial city and the capital of the British Indian Empire until 1911. The capital was later moved to Delhi due to growing demographic nationalism.
It was also the busiest and largest trading port in the British Empire. Western education and influence first came to India in Calcutta, where the fusion of European sciences and literature with Indian art and traditions made it a global city. It was the center of independence movements and revolutionary ideas.
Architecture 
North Kolkata: This is the area that was mostly inhabited by the British and the 19th-century Victorian architecture is proof of that. It is full of crowded apartments and busy bazaars. Popular centers are Shyambazar, Chitpur, Shobhabazar, Dum-Dum, Maniktala.
Central Kolkata: It is a major business center for public and private institutions such as the RBI and the High Court. The Maidan is often called the "Lungs of Calcutta" as it is located in the heart of the city. Victoria Memorial and Kolkata Racecourse are close to the hotel. Central Park and Millennium Park are also popular areas.
East Kolkata: It is relatively new, recently designed, and developed. Salt Lake City or Bhidannagar, Rajarhat (new city), and Beliagata are the centers of the IT and telecommunication industry.
South Kolkata: This is an elegant and advanced area. Lansdowne, Santoshpur, Golf Green, Ballygunge, and Alipore are the main attractions. The Eastern Command of the Indian Army is headquartered at Fort William.
Culture
The culture, media, and sports in this city are a vibrant kaleidoscope of the creative and contemporary minds of Kolkata. People here love to eat: the heart of the city's culture is the countless sweets, fish, and savory snacks available in every home and corner of the city.
 Sondesh, a sweet made from milk extract or Chena, and Rasgulla, a syrupy white milk ball, are perennial favorites. Among the main dishes, various gourmet fish curries and recipes are something that Kolkata and Bengalis, in general, are proud of.
Kolkata's street food game is also top-notch: the European palette-inspired Kathi Roll or noodles served in an egg white wrapper are unanimously voted the number one snack by college and office visitors. It is the dreamland of food lovers. Even in fashion and media, I take inspiration from the public.
It is often said that the best-talented singers and artists of India live in Kolkata. A number of internationally renowned artists, writers, singers, dancers, sculptors, engineers, and scientists proudly call Kolkata home.
Conclusion
This city has a long history of culture and heritage. The city is also known as the birthplace of renowned Indian pioneers like Rabindranath Tagore, Netaji, Swami Vivekananda, and others. Former Indian cricket captain Saurav Ganguly hails from Kolkata. Kolkata is and always will be the pride of India.
Essay on Kolkata in Video
If you LIKE this Essay on My Favourite City Kolkata, share it with your friends and bookmark our website Class Topper for future study reference!