10 Lines on Asia Cup: Team India won the Asia Cup for the maximum time i.e. 7 times in 15 editions. Sri Lanka 6 times and Pakistan 2 times won the Asia Cup.
Asia Cup is one of the most popular cricket tournaments in Asia. Asia Cup is conducted over a gap of two years by the International Cricket Council (ICC).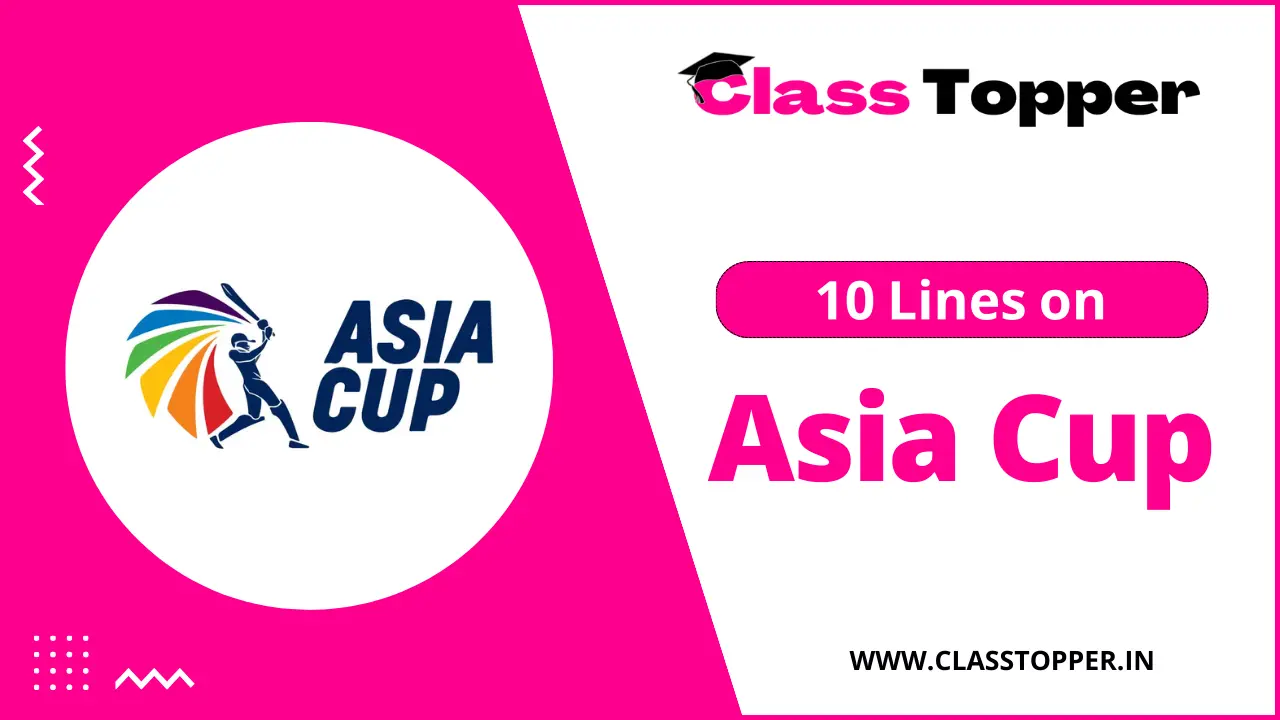 10 Lines on Asia Cup for Kids
The Asia Cup is a men's One Day International (50 overs) and Twenty20 International cricket (20 overs) tournament.
It was established in 1983 when the Asian Cricket Council was founded as a measure to promote goodwill between Asian countries.
It was originally scheduled to be held every two years.
The Asia Cup is the only continental championship in cricket and the winning team becomes the champion of Asia.
It alternates every 2-years between ODI and T20I formats.
The first Asia Cup was held in 1984 in Sharjah in the United Arab Emirates where the council's offices were based (until 1995).
The ICC has ruled that all games played in the Asia Cup have official ODI status.
The first edition of the Rothmans Asia Cup was held in 1984 in Sharjah, UAE.
Sri Lanka was the host for the second edition in 1986.
The 2023 Asia Cup will be the 16th edition of the Asia Cup.
10 Lines on Asia Cup for Students
The matches to be played as One Day Internationals (ODIs), and it will be jointly hosted by Pakistan and Sri Lanka.
The tournament will be played by 6 teams.
It is scheduled to be held in August and September 2023
Sri Lanka are the defending champions.
It will be the first Asia Cup to be co-hosted by multiple countries; four matches will be played in Pakistan, and the remaining nine matches will be played in Sri Lanka.
The groups and format of the tournament were announced on 9th January 2023.
The six teams split into two groups of three. A total of 13 matches will be played, which includes six league matches, six Super 4 matches, and a final.
A total of eight umpires were appointed to officiate the matches, four of them are from the participating nations while rest of the four are neutral umpire .
Pakistan and Sri Lanka will host the Asia Cup cricket tournament in 2023.
Board of Control for Cricket in India Secretary Jay Sah confirmed that India and Pakistan are in the same group for ODI Asia Cup 2023.
Read other related post– Short Essay / 10 Lines.
Feel free to leave any related questions or suggestions in the comments section below. Your feedback is valuable to us! If you find this information interesting, don't hesitate to share it with your friends who might also enjoy reading it. Sharing is caring!
References Links: